You are here:
Home
/
Bingo Guides
/ £10,000 Sweet Easter Bingo Games At Red Bus Bingo
Bingo newbie rooms: What are they?
27 May 2015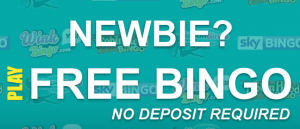 These days more and more bingo lovers are discovering the wonders of playing online bingo. Of course, there are those punters who've been playing for years, but there are also the novices, who don't really have much of a clue when it comes to playing bingo online, which is why bingo rooms for newbies are becoming increasingly popular with the masses.
Newbie rooms aren't just for newbies, many bingo fans can benefit from it, even if you've been playing for years.
Newbie rooms for the novice
Naturally, you won't know much when you begin playing bingo, so the Newbie room is perfect. These rooms will give you the chance to learn fast, much faster than if you went straight to a big game. Big games may be exciting, but no one's going to have the time to answer any questions for you – they're there for the win, and that's what they'll be focusing on.
If you have questions and need the answers about your game, you'll be able to connect with chat moderators in the Newbie room. They'll tell you how to buy tickets, how to make a deposit, what you do if you win, and much more, helping you become an experienced bingo player in no time.
Newbie rooms for veterans
Perhaps you've been playing bingo for years, and that's totally fine, but every bingo site is slightly different and joining a newbie room will allow you to test out a new bingo site thoroughly before you make the decision to invest and pay a deposit. You'll get the chance to understand the site's software or if you're really intrigued, you can check out the site's moderators and see how they operate.
Win free money
Everyone likes free funds, and today the majority of bingo newbie rooms have a number of free bingo games on offer, some of which have rather attractive jackpots.
Popular newbie rooms
Once you've signed up to the site, you're allowed to play for 5 days straight in the newbie rooms for free. Open between 12-2pm, and 7-9pm daily, you'll have a chance to win a £25 jackpot in each bingo game you play. The professional moderators will look after you, and if need be, they'll answer any question (big or small) that you may have regarding the game.
Enter the Wink Bingo site and search for the newbie room, which can be found under the tab labeled 'Free and Easy.' The hosts are friendly and know their stuff, and will willingly share all their knowledge to help you also become an expert bingo player. This is known as the 'cheeky' and 'fun' site, and if you want to join the newbie room, you can visit the site between 12-10pm every day for 7 days straight after joining
When you join Sky bingo, you'll get the chance for a bit more variety with the buy-one-get-one-free offer. The newbie room is open for 6 hours a day throughout the week, and you'll be able to enjoy your initial membership for 7 days. Here you'll have a great chance to win big and learn how to become an expert bingo player at the same time.
After joining Gala Bingo, you'll be able to enjoy 5 free days in the newbie rooms with the opportunity to win £30 per game you play. Newbie rooms at Gala Bingo are open between 12-2pm and 7-9pm. This is one of the most popular online bingo sites in the whole UK, so you're guaranteed to receive excellent advice and tips from your experienced and professional chat moderators.