Easter is just around the corner, and with it comes not only an excuse to pig out on chocolate without feeling any guilt (because it's tradition, right?) and also because bingo sites tend to take the opportunity to offer some exciting treats for their players.
This latter equally important tradition is already underway with Red Bus Bingo announcing a hugely exciting bingo promotion, with £10,000 in prize money up for grabs.
About the promotion
The Sweet Easter promotion at Red Bus is split into three different sections, which are obviously called dark, milk, and white chocolate.
The milk and white chocolate games will take place over the Easter period, but the dark games are already underway, taking place every Thursday and Sunday.
These 90 ball bingo games offer £50 for one line, £100 for two, and £150 for a full house, and at 5p each they're a total bargain!
Easter jackpots
Good Friday and Easter Sunday are the two big days for the Sweet Easter promotion, with the former being the milk chocolate game.
This 90 ball game offers a share of a £3,000 jackpot, with £1000 for a full house, £700 for two lines, and £500 for one. With £500 for 1TG and £300 for 2TG being shared as well.
On Easter Sunday, the prize fund goes up again for the white chocolate game.
Here, you will win £1,500 for a full house, £1,000 for four lines, £700 for three lines, £500 for two lines and £300 for one line in this 75 ball game, with a £600 pot to be shared between 1TG players.
This promotion is also occurring across Red Bus Bingo's sister sites including Bingo Street, Posh Bingo, and Tasty Bingo, so get involved, and make your Easter even sweeter this year!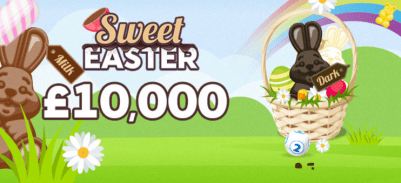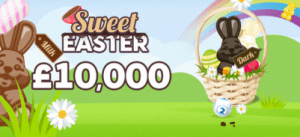 Join Now
Red Bus Bingo is offering all new players a 250% welcome bonus, so join them today.