Win a Diamond necklace at Loadsa Bingo
28 Oct 2019 By admin
You know the saying "Diamonds are a girl's best friend", well if you are the lucky winner, you could be wearing a superb diamond necklace worth £500 courtesy of Loadsa Bingo. Just the thing to set off your outfit as the party season will soon be upon us.
How to enter
The Diamond Necklace promotion is a fundraiser event which is being held in aid of Against Breast Cancer. You can pre-buy your tickets for the game which will be played in the Diamond Necklace Room which you can find under the Royal Room tab at 8pm on Friday the 1st of November 2019. Tickets will cost you 10p each with a maximum of 96 tickets per player.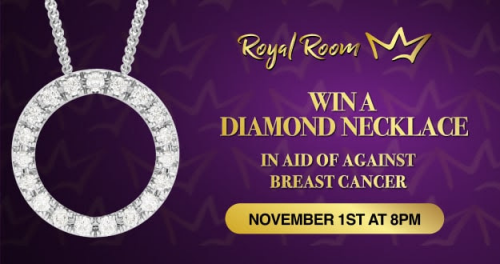 Eligibility
The Royal Room Diamond Necklace Fundraiser room is only open to registered players who have an active account. Game plays on November 1st, 2019 at 8pm. Tickets are 10p, max 96 tickets per game per player. UK players only: Deposit balance is available for withdrawal at any time. Withdrawal restrictions and Full T&Cs  apply
Prizes to be won
1 line – £10 Amazon gift card
2 lines – £20 Amazon gift card
Full house – Diamond Necklace worth £500
The story behind the fundraiser of the diamond necklace is about Danielle Callaghan, a 29yr old mum with a 1 year old daughter. She was diagnosed with stage 4 breast cancer just 2 months after giving birth. Her condition is manageable but not curable.
Danielle and Against Breast Cancer are running this inspiring campaign. A lock of her hair has been turned into a beautiful 1.59 carat diamond.
The money raised by our event through ticket purchases will support 'The Most Precious Stone' campaign.