Win a £1,000 Holiday Every Day at Mecca Bingo
08 Jan 2018 By admin
Fresh off their new and incredibly catchy Meccarena marketing campaign, Mecca Bingo are running an exciting promotion that gives players the chance to win a holiday worth £1,000 every single day until the end of January (2018).
Not only that, but three lucky players will win a P&O Cruise that's ever more exciting than the holidays!
Meccarena Holiday Giveaway
Each day for the rest of January there will be a bingo game late on in the Dancing Queen Bingo Room between 7pm and 11pm that has a £1,000 holiday as the grand prize.
With a holiday every day, it's worth popping in as often as you can to try your luck. If your time is limited, however, try and make sure you pop in on a Friday, as the prizes on the three Fridays left this month (12th, 19th, and 26th) the winner of the Full House in the holiday game will win an amazing P&O Cruise!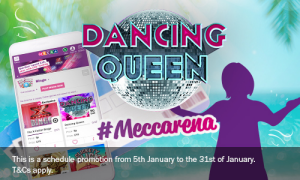 Other promotions
Mecca Bingo is not happy to only be offering a holiday a day this month, there's other promotions on offer from the popular site too.
Firstly, there's No Lose Bingo to enjoy, meaning that if you are a losing qualifier, you will get to share a Second Chance pot that should take some of the sting out of the loss for you!
On top of that, all players who deposit and wager £10 at Mecca Bingo throughout January will be rewarded with a £5 bonus, that's not just new players, that's all players!
With these excellent promotions, and an enticing welcome bonus, in addition to their infectious marketing campaign, Mecca Bingo is a fun, and possibly profitable place to be right now if you're looking for somewhere to wipe away those January Blues with some top bingo games!