The UK is finally having a 'National Bingo Day'
18 Mar 2021 By Rebecca Robinson
Can you believe that the UK doesn't yet have a National Bingo Day? Well that's about to change as Mecca Bingo and Buzz Bingo have teamed up with the Bingo Association to create the UK's National Bingo Day on 27th June.
Celebration of Bingo
During the Covid pandemic, Bingo has become a source of community and a great way to reach the more vulnerable in society. There were countless stories of residents arranging street bingo or charity bingo games, not only to raise money for good causes, but to lift everyone's spirits during lockdown. Everyone jumped on the bingo bandwagon, even Royalty and A-list movie stars!
Matthew McConaughey famously hosted a bingo game for residents of a Texas assisted living complex, and here in the UK, William and Kate, The Duke and Duchess of Cambridge, called the numbers for a local care home.
National Bingo Day
As the Nation begins easing out of lockdown, with hopefully all restrictions lifted from 21st June, National Bingo Day will take place on 27th June. It will bring a very welcome boost to bingo venues all throughout the UK, many of whom will have been closed the best part of year.
All land-based and online bingo operators will be encouraged to take part in the celebrations and we're sure there'll be some extra prizes or offers available to celebrate!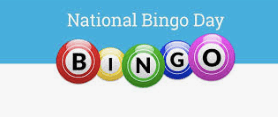 The Bingo Association's Chief Executive said "[We] are delighted to be taking part in National Bingo Day on June 27th, working alongside operators from land-based clubs and online, to bring everyone together to celebrate the great game of bingo that we all love"
Excitement from Mecca and Buzz bingo
Catherine Warrilow, the Head of PR for Mecca and Peter Brigden, CRO of Buzz Bingo, both spoke about their excitement for the day. Catherine said "We're so excited that National Bingo Day has officially arrived in the UK. We're proud to be a part of the campaign and it's THE year for bingo to be the evening out at the top of everyone's list. This special day in June will be a real lynchpin for that; for us and all operators. It's the perfect time."
Peter agreed, adding "What better way to celebrate the return of bingo to our towns, than with a national day to recognise it.  It's time to get the nation going bingo crazy again, and I really hope to see the whole sector embrace it and go big!"
We'll bring you more information about National Bingo Day as we get it, but we're really happy to see the Nation's favourite game, celebrated in this way.