Christmas Hampers to be sent out by Mecca Bingo
22 Dec 2020 By Rebecca Robinson
Mecca Bingo have teamed up with the Leeds Rhinos Foundation in order to provide Christmas hampers to families most in need. Mecca's 'Everyone Deserves a Christmas' campaign is well underway with the luxury hampers going out to families this week.
Food poverty in the UK
Most of us take our annual Christmas dinner for granted; turkey, roast potatoes, pigs in blankets, all the trimmings with lashings of gravy. However for many families, a traditional Christmas dinner is something they simply can not afford. There has been a surge of people using food banks across the UK, just to provide their families with basics such as rice, pasta and tinned goods. This is why Mecca Bingo want to bring a little festive cheer and ensure as many people as possible can have a proper Christmas dinner.
Everyone Deserves a Christmas
The 'Everyone Deserves and Christmas' campaign has seen the Leeds Rhino Foundation join forces with Mecca Bingo to deliver luxury food hampers worth around £50, to families in need. They hope that each of the 76 Mecca Bingo venues will deliver at least 30 food hampers each to families in the week leading up to Christmas.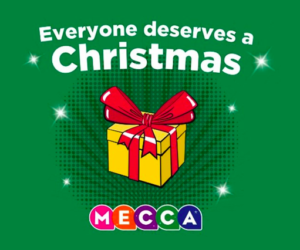 Hampers will include a huge array of Christmas goodies including: Sliced turkey, mince pies, instant mash, cranberry sauce, tinned goods, Christmas pudding, vegetables, stuffing mix, pigs in blankets, gravy granules, cheese selection and chocolate logs.
The Head of Marketing for Mecca Bingo, Carol Rhead, spoke about the initial taking place. She said "We're delighted to be launching Mecca's Everyone Deserves a Christmas campaign and to be bringing a little festive cheer to those most in need. It's been a year unlike any other, so we're thrilled to continue to give something back to our communities and will be incredibly grateful for any donations our loyal customers and supportive locals are able to make."