Celebrities join the Mecca Bingo livestreams every Monday to Saturday
18 Feb 2021 By Rebecca Robinson
Mecca Bingo are always on the ball when it comes to promotions and innovative ways to keep the fun rolling in. Just because bingo halls have been closed for the best part of a year, doesn't mean that bingo events and promotions have stopped. Although online bingo has become even more popular, it has evolved from just a faceless online game, to something much more exciting.
In Mecca's recent venture, you can join a host of celebrities as they join hosts in games, quizzes and much more.
How to join the fun
If you're wanting to take part in the action, it's on every Monday to Saturday from 8pm throughout the rest of February. There will be three bingo hosts who'll be joined by a several mystery celebrities, and the two-hour events promise even bigger and better prizes.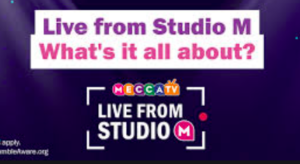 You can play from just 1p for the chance to win a £500 prize every half an hour, and as well as all the additional games and prizes, you also have the chance to win one of the five Premier Jackpot prizes which can reach over £100k.
In recent news, we heard about the Royal Mail worker who won £140k from a 75p bingo game and the UK luckiest bingo player who won her 6th jackpot prize in four years. The latest prize was a £51k premier jackpot which she won from an 18p stake.
Audience participation
As well as the bingo games, players are also asked to contribute to the fun by sending in funny stories, jokes or ideas by email so that they can be incorporated into the action and broadcast on air.
If you fancy seeing what it's all about and trying your luck, you can head over to Mecca Bingo at 8pm and go to either PennyLane, Rollercoaster or the Main Event bingo rooms.