You are here:
Home
/
Bingo Guides
/ £10,000 Sweet Easter Bingo Games At Red Bus Bingo
Bingo deposit bonuses
20 Mar 2015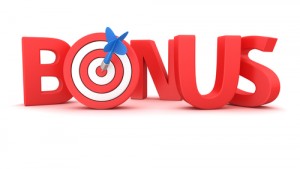 Bingo sites are very generous when it comes to giving players bonuses. They have to be generous, otherwise they wouldn't attract new players, nor would they be able to keep regular players using their site. Online bingo is a growing and very competitive market: it's great to be a player because there are so many bonuses to take advantage of. One of the main types of bonuses bingo sites offer is a deposit bonus.
What exactly is a deposit bonus?
A deposit bonus is a simply an amount of free money that is credited to your account when you make a deposit. Pretty much all bingo sites offer you a bonus for the first deposit you make: this is simply known as the first deposit bonus or the welcome bonus. It usually works like a match bonus; that is to say, you are asked to deposit an amount of money, usually £10, and the site will match that amount. Deposit £10 and you'll receive a free £10 to play with. Some sites match your bonus but multiply the bonus money by 2x, 3x, 4x or even more, so you could deposit £10 and receive £20, £30, £40 or even more to play with.
When you go on to a bingo site, you'll see first deposit bonuses advertised in two different ways: they can be advertised as a 100% deposit match bonus or as 'deposit £10 and get £10 free'. The terms and conditions for deposit bonuses do vary from site to site, so it's worth checking out what each site offers. While bingo sites let you deposit a set amount of money, the amount of money you can claim bonuses on is usually smaller. For example, you might be able to make a single cash deposit of £500 but you might only be able to claim bonuses for deposits of £10 or so.
While most deposit bonuses come in the form of match bonuses, you'll find some sites offer different types of deposit bonuses. You could earn loyalty points, a number of free spins on slots or even the chance to play a mini game for free and earn a cash prize.
Many sites offer deposit bonuses for subsequent deposit made after the site after your first few deposits. Reload match deposit bonuses work in pretty much the same way as welcome deposit bonuses, though there may be limits as to how many times you can deposit and receive a bonus for it. For example, you may find that you're only allowed to claim a certain number of reload match deposit bonuses a month; any deposits made once you've claimed your last bonus of the month will not come with a bonus. Again this varies from site to site. You'll find that reload match deposit bonuses aren't usually as high as first deposit bonuses; for example, most reload match deposit bonuses stand at 50%.
Working it out
Deposit bonuses are very easy to work out. If you deposit £10 and have a 100% bonus, it means you'll end up with a total of £20 to play with. This £20 includes your initial £10 deposit and the £10 bonus. You'll find that some bingo sites offer deposit bonuses for whenever you use an alternative method of payment, such as e-wallets. Sites usually have a few preferred methods of payment and you can get deposit bonuses whenever you use one of these methods. The bonus amount is a lot smaller, usually 5%-15%, though you do receive the match bonus whenever you deposit using one of the site's preferred deposit methods, no matter how many bonuses you've already claimed; there are no restrictions when it comes to claiming deposit bonuses this way.
Terms and conditions
There are wagering requirements in place so you can't just claim bonus money then withdraw it. Bingo sites are businesses, after all, and they can't afford to have people signing up just to withdraw free money all the time. You usually have to wager the total amount of the bonus money at least once before you can withdraw it. Additionally, any winnings earned through bonus money can only be withdrawn once you've met the site's wagering requirements.
Increasing your funds
Deposit bonuses are a great way to boost your account so you can play more games and make higher wagers. Most bingo sites do offer them and it's always best to see what different sites have to offer before deciding which one to go for. While most sites offer them, there are a few that don't. You should probably avoid these because you might as well take advantage of free money while you can.