Bingo bonus explained
27 Apr 2015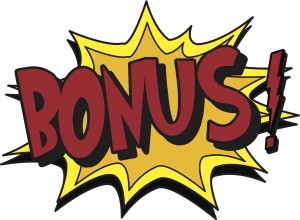 When you enter into the world of online bingo, you'll be amazed by the huge range of bonuses on offer. As competition between sites increases, the bonuses on offer have become bigger and better. So, what types of bonuses can you expect and what do you need to know before you take part?
Below you'll discover more about the top bingo bonuses and how they work.
Things to keep in mind
Before delving into the different types of bonuses available, it's worth knowing that there are usually restrictions placed upon each one. These restrictions will vary between sites, but one of the most common is wagering and withdrawal rules.
It's easy to assume that any free cash you are given as part of a bonus can be withdrawn straight away. This isn't the case. In fact, the majority of the time you will need to wager a certain amount of your own money before you can withdraw any winnings made from the bonus cash you are given.
It's also worth noting that some bonus cash is only designed to be used on certain games and cannot be withdrawn at all.
You should always read through the terms and conditions before deciding whether or not to take part in a bingo bonus.
Welcome and sign up bonuses
By far the most popular bonuses available are the welcome/sign up offers. There are different types available, with the main ones including:
No deposit bonuses
The no deposit bonus is a particularly attractive one. A lot of sites offer this these days and it basically awards you a free lump sum as soon as you register your details. As the name suggests, you don't have to make a deposit before you receive this free cash. The amount you get can be anything from £5 to £20 so it's worth comparing different sites to see which offers the most lucrative deal. With this bonus you'll also find that a lot of sites require you to register your card details. Even though you won't be required to use them before receiving the money in your account, if you don't register your details you won't receive the bonus.
First, second & third deposit bonuses
The first, second and third deposit bonuses tend to be the most common welcome bonus. Some sites only reward you for the first deposit, but there are many that extend the offer to second and third deposits too. This offer is given as a cash back percentage. For example, 100% cash back on your first deposit is a popular offer you'll come across. This means if you deposit £10 you will receive another £10 free, taking your overall total to £20. Again, there are often restrictions on this offer, with a maximum placed on how much you can receive.
Welcome gifts
The least common welcome offer is the welcome gift. There are very few online bingo sites that offer free gifts, but the ones that do are definitely worth seeking out. They offer anything from free cuddly toys to gift vouchers.
Re-load bonuses
Along with first, second, and third welcome deposit bonuses, a lot of bingo sites offer re-load bonuses. These are either offered on a weekly basis or for every additional deposit you make after registration. The amount you get back isn't typically a lot, but it is better than nothing. After all, it's worth getting something back if you're going to be spending the money anyway.
These are just some of the best bingo bonuses you'll come across. It is highly recommended you read over the terms and conditions before taking part, and don't forget to look to see what the wagering requirements are and when you can expect to get the actual bonus.